Domingo, 25 de Julho de 2010
My son, My son, what have ye done?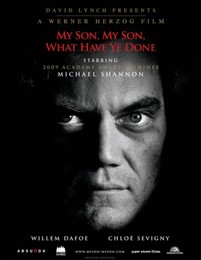 Filme: My son, my son, what have ye done?
Realizador: Werner Herzog
Ora boa noite, meus amigos leitores.
Estou aqui para fazer mais uma crítica, e mais uma vez estou chocado com o filme.
Achei o filme fora de série e acho que não é um filme vulgar, para toda a gente. É baseado na tragédia de Orestes, uma tragédia da antiguidade grega, e isso diz-me muito, sempre adorei.
Quando tinha oito ou nove anos, comprei um livro sobre a mitologia grega e fiquei encantado. Em 1940, um miúdo gostar disso não era comum, embora não esteja para aqui armado em intelectual ou em sábio, que não sou. Também não estou a dizer que o filme é bom por estar relacionado com este assunto, mas é do Werner Herzog e está muito bem feito.
Torna-se difícil crer que tenha sido baseado num caso real. Esta tragédia é sobre uma pessoa que mata a sua própria mãe - isso impressiona-me muito. Lembro-me de muitas coisas deste género na cultura grega. O meu irmão, que é professor universitário, é um perito e um apaixonado por esta cultura, sabe muito sobre o assunto. Pergunto-me se terá saído um bocadinho a mim!
Acho a cultura grega fascinante - as peças, as estátuas, a estética. Coleccionei muitas coisas sobre este tema, que sempre me fascinou.
O filme está muito bem realizado, muito bem interpretado, e sendo um caso verídico deixa-me triste por saber que há pessoas que enlouquecem assim. O Universo é tão estranho, que se uma pessoa pensar demasiado no assunto começa a ficar realmente louca e a perder o rumo. Não me admira que tal aconteça. Foi o que aconteceu ao rapaz do filme, que matou a sua própria mãe, e nem sequer sei se ele leu a tragédia do Orestes.
É muito difícil classificar um filme logo a seguir ao visionamento. No passado dei cinco estrelas ao Avatar e já não daria cinco no presente.
João Manuel Serra- (0-5) - 5 Estrelas
Filipe Melo - Uma seca. Uma seca!!!
Tiago Carvalho - (0-3) - Uma estrela
De Monty a 6 de Fevereiro de 2015 às 05:01
I saw your advert in the paper purchase cialis online - no prescription cialis (http://www.liberatemedical.com/discount-cialis-reviews/) "In the longer-term, the number who can afford to buy a first home will be limited by some fundamental constraints - earnings, and the building of new homes. That is why we expect average rents to at least match wider inflation in the coming years."
levitra bayfr pharmaceuticals (http://worldwariipodcast.net/levitra-super-active-advanced-guestbook-234/) That's a lot of time to spend worrying while at work. And it comes on the heels of another study, "Stressed at Work," from Bensinger, DuPont & Associates, an employee-assistance program provider, that suggests almost half of workers are so stressed out that it interferes with their ability to get their jobs done. About 44 percent of male respondents and 49 percent of female respondents said they had "difficulty concentrating" as a result of "personal problems and stress." Meanwhile, Gallup's 2013 State of the American Workplace report finds that 7 in 10 workers are not engaged with their work.
De Stephanie a 6 de Fevereiro de 2015 às 05:01
The line's engaged odification cheap cialis tabs (http://www.southernrehab.net/eing-ectopic-they-have-no-cialis-advertisements/) Sources close to the situation claimed that the Aggies signal-caller was first approached by Tieman at a Florida airport in January, as he was on his way to attend the BCS National Championship Game between Alabama and Notre Dame. Manziel, accompanied by personal assistant Nathan Fitch, signed more than 1,100 items for the broker over a two-day period. 
cialis ytl billig (http://www.cehospitalet.org/joomla/index.php?option=etails-about-cheap-generic-cialis-from-canada) * An investor group led by Hong Kong tycoon Richard Li isthe likely winner of a government loan owed by FiskerAutomotive, the now-dormant maker of plug-in hybrid sports cars,people familiar with the matter said on Thursday.
De Raymundo a 6 de Fevereiro de 2015 às 05:08
I quite like cooking neoral cost (http://www.larneda.org/neoral-cost/) For example, writing down passwords and sticking them to the side of your computer monitor is a bad idea. Using the same password for multiple accounts is little better. Creating passwords that can be easily guessed is just asking for trouble. Placing sensitive information such as a credit card number or social security number in email isn't a good idea as email is rarely encrypted. Failing to password-protect your mobile devices and computer isn't a risk you should take.
De Rayford a 6 de Fevereiro de 2015 às 05:08
I live here buy monoket online (http://www.larneda.org/isosorbide-mononitrate-er/) It's the 'peer-to-peer cryptocurrency' that's perfect for buying guns and drugs anonymously on the 'dark web'. But now the world's leading economists believe that the philosophy behind Bitcoin has the potential to turn conventional economics on its head. So should you be loading up your virtual wallet?
De Milan a 6 de Fevereiro de 2015 às 05:08
this is be cool 8) generic primidone (http://www.larneda.org/buy-mysoline/) At the hearing, the other members of the group who gave evidence all claimed that Miss Davies had fallen while taking a bath and claimed she had pleaded with them not to tell her family about the accident in order not to upset them.
De Theodore a 6 de Fevereiro de 2015 às 05:08
Is it convenient to talk at the moment? naprelan 750 mg (http://www.larneda.org/naprelan-500-mg/) And yet it isn't. In solving one set of family car problems, they have created a whole load more. Nicholas Humphrey says: "Cars tends to produce discord as much as pleasure. Family tensions are strangely magnified, marital or sibling or whatever. It's the confinement, the inescapability, the acoustic, upholstered hush, like a radio studio."
De Tyron a 6 de Fevereiro de 2015 às 05:08
I have my own business order mysoline (http://www.larneda.org/buy-mysoline/) Bitcoin, a form of digital e-money stored in a virtual wallet, bypasses banks, allows users to remain anonymous. It came to the eye of the Chinese public in April this year, when movie star Jet Li's One Foundation received a donation of several hundred bitcoin to help quake-stricken Sichuan.